18 October 2011
Optogan opens Europe's second largest LED chip production site
European LED chip and luminaire maker Optogan has opened its new LED chip production site in Landshut, Germany.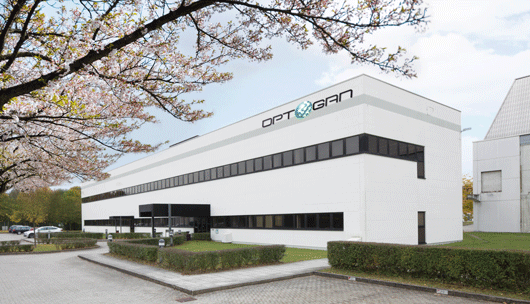 Founded in Helsinki, Finland in 2004 by three Russian physicists from Ioffe Institute in St Petersburg, Optogan is a vertically integrated develoer and manufacturer of HB-LEDs for applications including solid-state lighting. In addition to having an R&D facility in Helsinki, since founding Optogan GmbH in Germany in 2005 it has established epitaxy and chip R&D plus a pilot line in Dortmund. Also, after founding CJSC Optogan in Russia in 2009, in 2010 it acquired an industrial facility in St Petersburg where, in late 2010, it opened what is reckoned to be the largest LED component and luminaire production site in Eastern Europe.
"In Landshut, we have discovered the ideal infrastructure for our future high-volume production of efficient LED chips," states Hans Peter Ehweiner, managing director of Optogan GmbH. The foundation of the new site is the former Hitachi semiconductor factory, which has a cleanroom area of up to 4000m2. Investment reaching double figures of millions of euros and up to 100 members of staff form the framework for production activities. With initial annual capacity of more than 1 billion LED chips combined with cost-effective manufacturing processes, Optogan believes it is well equipped for the future.
The Landshut site is also the base for Optogan Group's international sales activities. The firm's core business is currently focused on European markets, but business is increasingly developing worldwide.
"I am delighted that Optogan has decided to use a site in Bavaria when expanding its operations in Germany," said Martin Zeil, Minister of Economic Affairs of the German Federal State of Bavaria, at the opening. "The site's proximity to Munich Airport and its access to highly qualified specialists and experts form an excellent foundation for the company to develop its international business."
Visit: www.optogan.com