12 October 2011
Nanosolar's CIGS PV utility panels installed in National Guard camps
Nanosolar Inc of San Jose, CA, USA, which makes thin-film photovoltaic panels based on printing copper indium gallium diselenide (CIGS) and nanoparticle inks (using the industry's first roll-to-roll solar cell printing factory, together with an assembly plant in Luckenwalde, Germany), has announced the installation of 538kWp of its utility panels at the Camp Perry Ohio National Guard Base in Port Clinton, OH. Nanosolar partner Romanoff Electric Co LLC of Toledo, OH oversaw engineering, procurement and construction of 2750 Nanosolar Utility Panels as part of the project.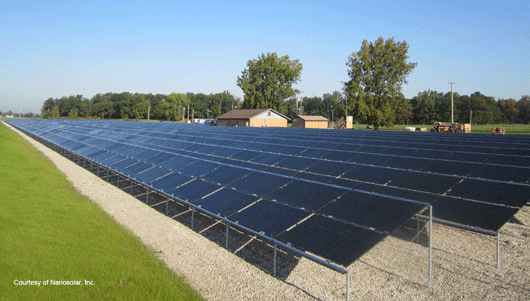 Picture: Nanosolar Utility Panels at Camp Perry in Ohio.
The panels were pre-assembled into cartridges by mounting systems vendor AP Alternatives at its fabrication facility in Ridgeville Corners, OH, and then delivered and inserted into pre-driven and laser-guided piers at the project site. AP Alternatives' pre-assembly enables quicker and more cost-effective installation with far less panel breakage than with traditional mounting systems, it is reckoned.  
"The Nanosolar Utility Panel delivers a low-cost, easy to install solar power alternative for America's military bases," says Jerry Heminger, VP of Alternative Energy at Romanoff Electric. "Nanosolar's utility-scale thin-film panel design allows us to install equivalent power with fewer panels and less equipment, cabling and people than conventional thin film solar technologies," he adds.
Nanosolar also says that, together with engineering, procurement and construction (EPC) partner Belectric Inc of Newark, CA, it is on schedule to construct its 1MWp ground-mount thin-film solar installation at the Camp Roberts California National Guard Base near Paso Robles, CA. The project is funded by the US Department of Defense's Environmental Security Technology Certification Program (ESTCP) in order to showcase a low-cost, secure renewable energy alternative to fossil-fired power generation. Groundbreaking is scheduled for early January 2012 and system construction is due to take less than three months.
"Solar power is an affordable, reliable and responsible source of energy for America's military," says Nanosolar's CEO Geoff Tate. "Nanosolar is delivering a stable power source to Camp Perry and other military installations that is independent of supply shortages, grid interruptions, and price fluctuations."
The firm says that its roll-to-roll printing process and utility-scale panel design enables the Nanosolar Utility Panel to reduce both manufacturing costs and balance of systems costs in multi-megawatt installations. It is also the first solar panel to be certified to operate at up to 1500 system volts. These system design features allow for balance of systems cost savings of up to 30% over competing thin-film solar panels in utility-scale power plants, it is claimed. Nanosolar adds that its panels can also be assembled close to market demand in order to leverage local resources and minimize logistics costs.
Tags: Nanosolar CIGS thin-film PV panels CIGS
Visit: www.nanosolar.com