14 July 2011
Osram Opto adds blue, green and orange to its red and yellow TOPLED Black Series
Osram Opto Semiconductors GmbH of Regensburg, Germany has supplemented its TOPLED Black Series 60° beam-angle portfolio of red and yellow LEDs (which feature integrated lenses in black packages) by adding the three new colors blue, green and orange. In addition, the firm now offers all five colors with a new 30° beam-angle version. "This means that we have the broadest portfolio of 'black' LEDs on the market and can cover a wide range of applications," claims product manager Sven Weber.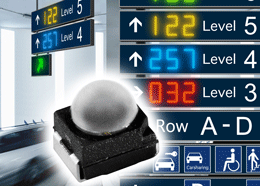 The compact, powerful LEDs are particularly suitable for monochromatic and multicolor displays, such as those in electronic road signs, travel information displays, parking control systems, and price information pillars at gas stations. The most suitable beam angle for each application depends on the distance from the viewer and on local conditions. On straight roads the 30° beam-angle LEDs are best suited, whereas the 60° beam-angle versions are better for the curves on entrances to and exits from highways, for gas stations, and for bus destination displays. The orange LED versions are intended for pedestrian lights in America and Japan.
The completely black package of the TOPLED Black Series reduces reflections, says Osram Opto. The LEDs also offer high contrast, so the displays have good legibility in all lighting conditions. The firm also claims that the 30° version of the green LED offers the highest luminance available at present: 7cd at an operating current of 20mA.
As surface-mount technology (SMT) components, the LEDs are suitable for automatic handling, so displays can be manufactured at lower cost than with radial LED versions. The solder legs compatible with TOPLED and Power-TOPLED provide flexibility, says Osram Opto, because changes in design can be easily made if required. This means that displays with different luminances and beam angles can be made using the same circuit board.
Osram's new TopLED Black Series LEDs for display applications
Tags: Osram TOPLED Black Series