31 January 2011
Nextreme launches thermoelectric cooler for high heat fluxes in photonics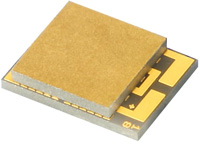 At the Photonics West 2011 conference in San Francisco, CA, USA last week, Nextreme Thermal Solutions of Durham, NC, USA, which designs and manufactures microscale thermal and power management products, has launched the OptoCooler HV37 module, the next product in its high-voltage (HV) line of thin-film thermoelectric coolers (TECs) designed to address photonics cooling applications with larger heat pumping requirements.
At 85°C, the OptoCooler HV37 can pump 4.5W or 107W/cm2 of heat in a footprint of just 6mm2. The device is only 0.6mm high, making it one of the thinnest heat-pumping TECs in the photonics market, it is claimed.
Also, at 85°C, the HV37 can create a temperature differential (deltaT) of up to 60°C between its hot and cold sides, and operates at a maximum voltage of 7.7V, making it compatible with commonly found board-level currents and voltages. At 25°C, the device can create a deltaT of up to 50°C with a maximum voltage of 5.9V.
The HV37 is RoHS-compliant and is manufactured using gold-tin (AuSn) solder, enabling assembly temperatures as high as 320°C, which makes it compatible with industry-standard processes for packaging photonics devices that require tight tolerances.
"Thermoelectric coolers made from thin-films are smaller and thinner than conventional TECs and can be embedded in the smallest of packages," says VP of engineering Dave Koester. "In addition to its high-heat pumping capability, the OptoCooler HV37 has a low mass, which enables a more rapid thermal response to changing temperatures for precise temperature control," he adds.
The HV37 module is available with an 8–10 week delivery lead time. Pricing is available upon request.
Tags: Nextreme Thermoelectric coolers
Visit: www.nextreme.com/optocooler