21 January 2011
Large-size LED-backlit LCD panels to reach 67% market share in 2011
The proportion of large-size (>10-inch) liquid crystal display (LCD) panels shipped worldwide using light-emitting diode (LED) backlights will rise from 44% in 2010 to an estimated 67% in 2011, as unit shipments rise 74.9% from 283.3 million units in 2010 to 495.6 million units, according to market research firm IHS iSuppli.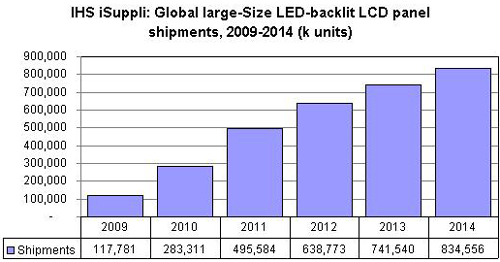 Chart: Large-size LED-backlit LCD panel shipments (thousands of units), 2009–2014.
In particular, LED backlight penetration will rise from 91% to 100% for notebook and netbook panels, while LED backlight penetration in TV and monitor panels will rise from about 20% to slightly less than 50%.
By 2014, shipments of large-size LCD panels with LED backlights should reach 834.6 million units, forecasts iSuppli, growing at a compound annual growth rate (CAGR) of 47.9% from 117.8 million in 2009.
"LED-backlit panels have emerged as the main driver of large-size LCD panel shipment growth in 2010, representing the fastest-expanding — and soon to be the largest — portion of the LCD market," says Sweta Dash, senior director of LCD research at IHS. "Consumers increasingly are demanding LED-backlit TVs as the costs of such sets decline, allowing more users to take advantage of their superior image quality, lower power consumption and thinner form factors."
However, despite the strong growth in shipments of LED-backlight products, the large-size panel market in 2011 faces the specter of oversupply, which could result in falling prices, reckons the firm. Based on an analysis of the current production plans of panel suppliers, manufacturing capacity may significantly exceed market demand in first-half 2011. However, capacity expansion in second-half of 2011 may decrease to a lower level than demand. "If panel suppliers can control production skillfully and rationally, 2011 can be very positive year for the LCD industry," Dash says. "On the other hand, excessive production in the first half may lead to an inventory buildup and oversupply in 2011."
LED pricing pressure extending into Q1/2011
LED TV panel demand to rise significantly in January/February
LED-backlit panels to account for 30% of AUO's shipments for TVs in Q3
Tags: LED backlighting LCD panels
Visit: www.isuppli.com