26 April 2011
Intel to transfer manufacturing expertise to speed MiaSolé's CIGS PV ramp to 150MW
MiaSolé of Santa Clara, CA, USA, which was founded in 2001 to make copper indium gallium diselenide (CIGS) thin-film photovoltaic panels, has entered into an agreement with Intel's Technical Manufacturing Services practice.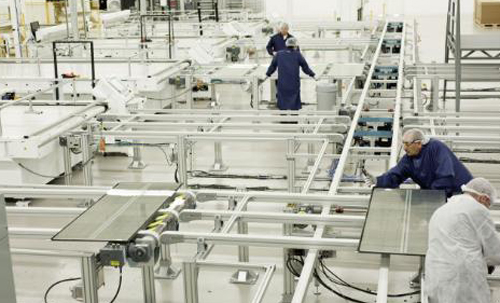 Picture: MiaSolé's manufacturing plant.
Santa Clara-based Intel will provide customized manufacturing services and systems, strategic consulting, operational knowledge and training to MiaSole as it ramps its manufacturing facilities in 2011 and 2012.
"The engagement is part of Intel's broader strategy to partner promising high-tech innovation with Intel's world-class manufacturing and Copy Exactly methodology," says Brian Krzanich, senior VP & general manager of Intel's Manufacturing and Supply Chain. "This will enable companies like MiaSolé to scale to high-volume manufacturing cheaper, faster, and better," he adds.
MiaSolé has increased its annualized production capacity to more than 50MW in just over a year, and is on-track to triple capacity to over 150MW by the end of 2011. However, the agreement with Intel – which now has more than 40 years of manufacturing experience – should accelerate the production ramp with the improved repeatability and consistency required for high-volume manufacturing, further reducing the overall cost of solar energy and broadening its worldwide adoption, it is reckoned.
"This contribution will strengthen our goals to achieve manufacturing scale at our California factory this year," comments MiaSolé's CEO Dr Joseph Laia.
Visit: www.MiaSole.com
Visit: www.intel.com