27 April 2011
GT wins $218.9m sapphire furnace order from Haotian Opto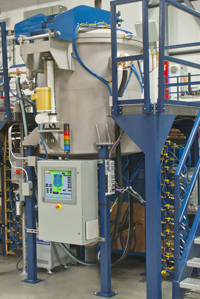 GT Solar International Inc of Merrimack, NH, USA (a provider of polysilicon production technology as well as sapphire and silicon crystalline growth systems and materials for the solar, LED and other specialty markets) has received an order for sapphire crystallization furnaces totaling $218.9m from Guizhou Haotian Optoelectronics Technology Co Ltd (HTOT).
The order continues GT Solar's market momentum for its sapphire crystalline growth technology based on its sapphire furnace. This is GT Solar's fifth order for its sapphire crystallization furnaces in recent months. In late February GT Solar received a $41m order from a new Asian customer, in January it received a $33.3m order from South Korean polysilicon provider OCI Company Ltd, and in December it received two orders totaling more than $84m from China's Jiangsu Jixing New Material Co Ltd and Jiujiang Sapphire Tech Co Ltd (affiliates of two long-term photovoltaic customers). The latest order will be included in GT Solar's backlog for its current fiscal first-quarter 2012 (to 2 July 2011).
Picture: GT Solar International's Advanced Sapphire Furnace.
"Our entrance into the LED market offers a new strategic growth opportunity for our company and Guiyang City as well as the Guizhou region of China," says Hao Xu, chairman of the board of Guizhou Industrial Investment Group. "Our new sapphire production facility will help to stimulate economic growth in the region and establish HTOT as a leading supplier of material to the LED industry," he reckons.
HTOT aims to be a vertically integrated manufacturer of sapphire products including crystal, cores, wafers and other crystalline products for LEDs, silicon on sapphire (SOS), radio frequency integrated circuits (RFICs), optoelectronics and other optical applications. Once fully operational, HTOT will be produce sapphire in volume production of various sizes and orientations of substrates and windows.
"This project requires a technology partner that can deliver reliable, highly productive equipment as well as installation and support know-how to quickly get our new factory up and running," Xu says. "We selected GT Solar because of its leading technology, proven track record, and years of experience enabling cost-effective, high-volume manufacturing," he adds.
"We look forward to a long and successful partnership over the coming years," says GT Solar's president & CEO Tom Gutierrez. "We continue to see growing interest from companies looking to enter the fast-growing LED industry," he adds. "Our sapphire crystal growth technology provides a proven path to producing high-quality material, and our global installation and support resources enable our customers to quickly ramp to high-volume, low-cost manufacturing."
GT Solar's sapphire furnace technology is the result of more than 40 years of process improvement and development at crystalline growth technology firm Crystal Systems Inc of Salem, MA, USA (acquired last July), a provider of sapphire for the LED and specialty optical and mechanical industries.
GT Solar wins $41.6m order for sapphire furnaces from new Asian customer
GT Solar wins $33.3m order for sapphire furnaces from South Korea's OCI
GT wins first sapphire furnace orders since buying Crystal Systems
Tags: GT Solar Crystal Systems Sapphire crystallization furnaces
Visit: http://ghtot.com