19 April 2011
LED market for NVIS-compatible lighting to grow at 20.4%
Global consumption of packaged LEDs used in night-vision imaging system (NVIS)-compatible lighting in non-civilian applications, such as military, law enforcement, emergency medical services (EMS) etc, will increase at an average annual growth rate of 20.4%, from $36.2m in 2010 to $132.8m in 2017, according to a new market research study from ElectroniCast Consultants.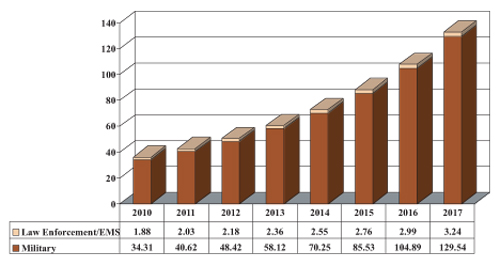 Figure: NVIS-compatible LED consumption market forecast, by top-level application (value basis, $m). Credit: ElectroniCast Consultants.
The use of LEDs in NVIS-compatible lighting will continue to be dominated by the Military market sector, which includes Army, Air Force, Navy, Marines, Coast Guard, National Guard (and State-level Guard/Defense) and the equivalent from countries worldwide.
"LEDs provide an excellent NVG (night-vision goggle)-compatible lighting solution in aircraft, ships/watercraft, ground vehicle, ground field command, and 'man-portable' devices, which is winning market share from filter-based and other conventional lighting," says Stephen Montgomery, president of International Business & director of the LED practice at ElectroniCast.
"The Ship/Watercraft category under the Military sector is the current market leader, and it is forecast with the fastest growth (2010–2017), led by LEDs used in exterior NVIS-compatible lighting," he adds. "The Military Aircraft category holds a relative market share 31.5% of the total worldwide consumption value in 2011," Montgomery forecasts.
The Law Enforcement sector includes Local, State and National Law Enforcement (National: all of the '3-letter' agencies, plus other/related – FBI, DHS/ICE, DEA, ATF, CIA, DSS, etc, plus many other relative law enforcement), as well as the equivalent from countries worldwide. The application category also includes Emergency Services (Emergency Medical Services-EMS, Fire/Rescue/Forestry, etc).
Tags: LEDs Night-vision imaging systems
Visit: www.electronicast.com
Join Semiconductor Today's LinkedIn networking and discussion group