30 April 2011
Aixtron's revenue drops 9% in Q1
For first-quarter 2011, deposition equipment maker Aixtron SE of Aachen-Herzogenrath, Germany has reported revenue of €205.4m, down 9% on €224.7m last quarter (in line with customer delivery requirements) but up 33% €154.5 on a year ago, driven by a continuing high level of demand for LED deposition equipment. In particular, of total revenue, 54% was for new-generation systems.
| | | | | | |
| --- | --- | --- | --- | --- | --- |
| Fiscal | | | | | Q4/2010 |
| Revenue | €154.5m | €191.8m | €212.7m | €224.7m | €205.4m |
Of total revenue, 89% came from Asia and 6% from the USA and 5% from Europe. By application, 89% of revenue was for LEDs and just 4% for telecoms/datacoms and 7% for displays/other.
"Whilst the first quarter of 2011 has been a testing time for many in the global community, we are very pleased to still be able to report a continuation of the high level of demand for our systems," says president & CEO Paul Hyland.
Although down from 52% last quarter, gross margin of 51% is up from 50% year-on-year. Coupled with lower operating expenses, the operating profit (earnings before interest and taxes) rose from €46.4m a year ago to €74.9m (although this is down on €86m last quarter). EBIT margin has risen from 30% to 36% (though down on last quarter's 38%). Though down on €61.6m last quarter (27% of revenue), net profit of €52.3m (25% of revenue) is up from €31.8m a year ago (21% of revenue). Free cash flow was €11.7m. During the quarter, cash & cash equivalents plus cash deposits rose from €384.7m to €394.8m.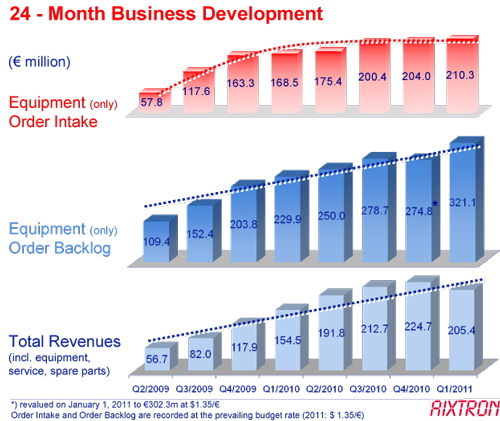 Equipment order intake was €210.3m, up 3% on €204m last quarter and up 25% on €168.5 a year ago. Aixtron says that the ongoing demand reflects the continuation of strong demand from LED backlighting manufacturers and, significantly, rising early demand from the lighting applications industry. With 65% of these orders being for Aixtron's latest-generation G5 and CRIUS II equipment, the customer adoption rate (from 8% in Q2 through 29% in Q3 to 55% in Q4/2010) is faster than for previous-generation system introductions.
With 54% of revenues and 65% of the orders received in Q1/2011 being for new-generation 'Integrated Concept' (IC2) systems, the rapid rate of customer adoption is an encouraging indicator that the transition period between G4/CRIUS and G5/CRIUS II is coming to an end, says Aixtron, and bodes well for future business development.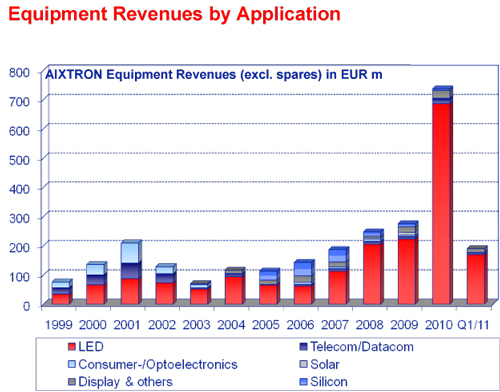 Moreover, momentum in the development of lighting applications continues to increase, supported by government and public opinion on energy-saving technologies, the firm comments, adding that recent events in Japan have only intensified that focus. Aixtron reckons that it is in a good position to deliver against a proven roadmap to supply cost-effective production solutions. "Those solutions are required to support what will inevitably become the third and biggest LED investment cycle for energy-efficient lighting applications in the years ahead," believes Hyland.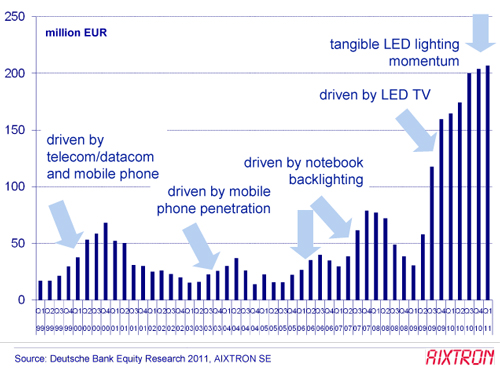 By the end of Q1/2011, Aixtron's order backlog was €321.1m, up 17% on €274.8m at the end of last quarter (since re-valued to €302.3m, at $1.35/€) and up 40% on €229.9m at the end of Q1/2010. This represents a solid foundation for the rest of the year, reckons Aixtron, and consequently management has confirmed its guidance for 2011 of revenue of €800–900m and an operating margin of about 35%.
Aixtron's revenue grows more than 2.5-fold in 2010
Aixtron reports revenue up 11% in Q3 to record €212.7m
Aixtron grows 31% in Q1; orders up fivefold year-on-year
Visit: www.aixtron.com